Discovery Set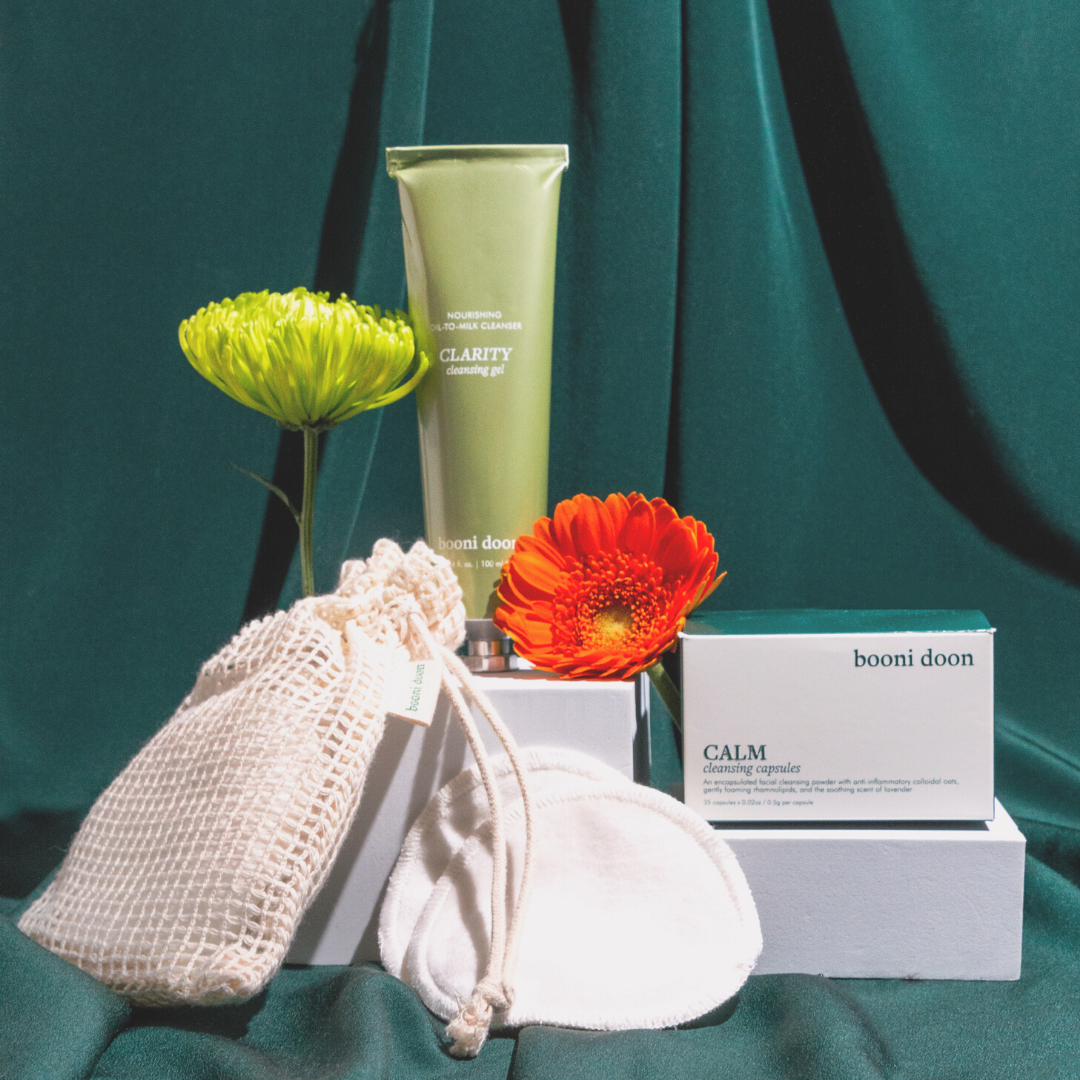 Discovery Set
Regular price
$8600
$86.00
Sale price
$7300
$73.00
Save 15%
CALM Cleansing Capsules Ingredients: Avena sativa (Oat) Kernel Colloidal Oatmeal, Maranta arundinacea (Arrowroot) Root Powder, Lavandula officinalis (Lavender) Flower Powder, Sodium Cocoyl Isethionate, Glycolipids (Rhamnolipids), Clitoria ternatea (Butterfly Pea) Flower Powder*, Hylocereus undatus (Dragon Fruit) Fruit Powder*, Pullulan, Gellan

*Processed in a facility that also processes milk, eggs, tree nuts, wheat, and soy.
CLARITY Cleansing Gel Ingredients: Caprylic/Capric Triglycerides, Vegetable Glycerin, Sucrose Laurate, Sucrose Stearate, Vitis Vinifera (Grape) Seed Oil*, Sambucus Nigra (Elderberry) Fruit Extract, Aqua (Water), Camellia Sinensis (Green Tea) Leaf Extract, Cucumis Sativus (Cucumber) Fruit Extract, Pyrus Malus (Apple) Seed Oil, Chamomilla Recutita (Chamomile) Flower Extract, Centella Asiatica (Gotu Kola) Extract, Persea Gratissima (Avocado) Fruit Powder, Gluconolactone
*Upcycled from wine making in Napa Valley, California
CALM Cleansing Capsules: Using only dry hands, pick capsule from glass container. Tap capsule to settle cleansing powder in bottom portion of capsule. Then gently squeeze and pull apart vertically to remove top portion of capsule. Pour cleansing powder into palm. Wet opposite palm and rub hands together to create a light, gentle foam. Add a few drops of water, if desired. Massage onto face in circular motions. Rinse, pat dry and follow with your favorite toner, moisturizer or serum.
CLARITY Cleansing Gel: Using dry fingertips, massage generous amount onto dry face until gel melts into a cleansing oil. If removing makeup, be sure to apply gently over closed eyes. Add warm water to emulsify oil into soothing milk. Rinse off skin and if desired, follow by wiping face with a damp washcloth.
Note: We always recommend patch testing before use. Please use as directed and avoid direct contact with eyes.
PLUSH Reusable Rounds: Use on your face, neck, and around your eyes with your favorite makeup remover, cleanser, toner, or essence. After use, hand wash or place reusable rounds in the accompanying mesh bag for machine washing with your delicates on the gentle cycle. We recommend taking the rounds out of the mesh bag after washing and hanging them to air dry.
Custom-made specifically for booni doon, our packaging was selected for their ease of recyclability and the sustainable nature of the materials. See below for information on our product packaging and how to properly dispose of it. 
RECYCLE CLARITY'S ALUMINUM TUBE + ALUMINUM CAP Prior to recycling the aluminum tub and cap, please ensure there is no product left in the tube as it could contaminate the recycling process.
RECYCLE CALM'S GLASS JAR Most large cities accept glass in their curbside recycling programs, but please check with your local recycling center.

COMPOST CALM'S BAMBOO LID To speed up the composting process, please (carefully!) break the bamboo lid into small pieces with a hammer or saw prior to composting.
COMPOST PLUSH'S COTTON ROUNDS + MESH BAG We worked to include 0% synthetic material, including sourcing paper interfacing for the inner liner. After the rounds and mesh bag are no longer usable, we recommend composting. Please check with your local composting authority to ensure it is accepted.